I have Process Lasso, do I need ParkControl?
You do not need it, but you may choose to also have it installed.
ParkControl offers these additional functions:
A real-time system tray icon showing CPU core parking status
Easy access to CPU core parking settings
Power profile change notifications
Is ParkControl Pro included in Process Lasso? Can I run them together?
Yes, they can be run together just fine. They are designed to. Do you need ParkControl though? Well, you already have 'Bitsum Highest Performance' power plan, and it can be automated via 'Performance Mode' and other mechanisms. You further have a non-system-tray ParkControl listed in the Tools menu of Process Lasso. The stand-alone distribution of ParkControl is for those who do not want to pay for, or use, a full-blown Process Lasso installation. The only other benefit to ParkControl is a system tray icon that dynamically changes when cores park, and perhaps easier access to quick core parking tweaks.
What are these overlays? Where is the Bitsum Highest Performance power plan?
The overlays are 'Power Modes' of Balanced. See this post.
You can escape them and go back to traditional power plans by creating a new power plan in the Windows settings, then switching to it.
However, it is recommended that you instead tweak your overlay(s) to act like Bitsum Highest Performance, disabling core parking and frequency scaling.
How can I enable Power Modes (overlays)?
Switching to Power Modes
Users can switch to Power Modes (overlays) by entering the 'Balanced' power plan, then opening the System Power settings and selecting one of the three Power Modes, as shown below. Alternatively, the battery icon in the tray can be used to select a Power Mode. After doing this, restart ParkControl for them to show up. See
this post
for more information.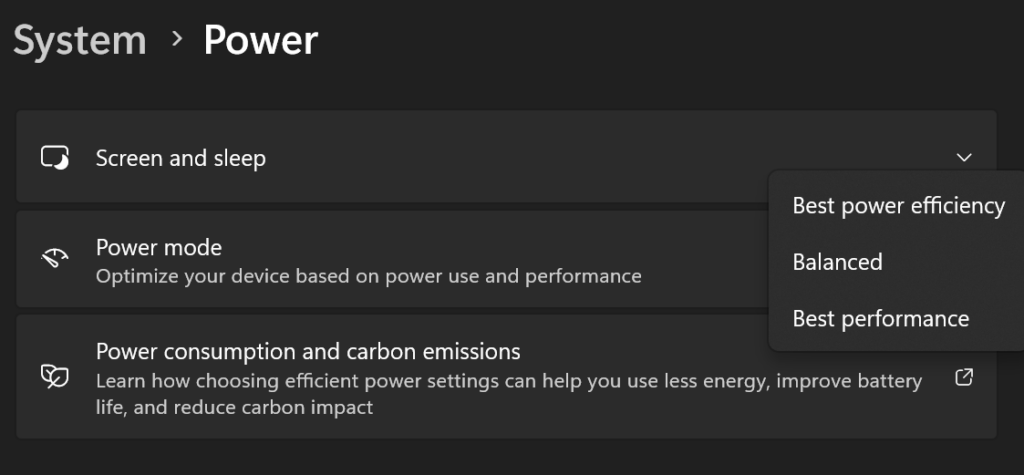 I want to use Dynamic Boost, but my PC keeps going to sleep. How do I fix this?
When your PC goes Idle, Dynamic Boost switches to 'Power Saver'. If you do not want your PC to sleep, you need to change that setting for the Power Saver power plan. To do this, open 'Power Options', find 'Power Saver', and edit it. You can also switch to it, then change the sleep settings in their separate config area in Windows.
Will disabling CPU core parking and frequency scaling improve performance?
CPU core parking and frequency scaling can have a dramatic impact on real-time performance of bursting loads like audio/video, gaming, VOIP, and more. That is a big reason we have made such a 'fuss' over them. It was nice to be 'vindicated' by Intel, who has moved core parking control to the hardware in new CPU generations because the OS's management was so sub-optimal. As long as they retain the ability to disable core parking, and I'm sure they will, it should be a good change. Microsoft seemed to focus entirely on battery life in recent years, leaving performance to suffer, particularly for desktop users.
Should I manually edit the registry instead?
No, direct registry edits are not advisable. ParkControl makes these changes the correct way. The storage of the settings is backed in the registry, but why would you go hacking around in there when you can make these changes the right way and not risk damage? ParkControl's changes to the system power plans are persistent, they don't go away.
When I click Apply, I receive 'Error: The core parking settings could not be applied.' How do I fix this?
Check for any other energy (or 'power') related apps, and, if found, change them to something other than 'Balanced'.
In other cases, you may need to escape the Balanced power mode. Go to the Windows Power Options and select 'Create a new power plan' to finish creation of a new power plan. Afterwards, restart ParkControl and it may now have the capability to modify the settings.
My CPU cores won't park! What is wrong?
First, if you never saw your CPU cores park, then it may be that your system just doesn't support core parking. If you have seen your cores park in the past, but aren't seeing parking activity, double check with the Task Manager or Resource Monitor (resmon.exe) to make sure it is not just a display error in the ParkControl GUI.
Do ParkControl's changes persist?
ParkControl changes settings of the Windows power plans based on your selections. These changes persist even if ParkControl is not running or uninstalled. For system defined power plans, you can reset to defaults in the Windows Power Options (linked to from the ParkControl GUI).
I can't activate ParkControl Pro. What is the issue?
First, ensure that you are using the right activation code. You can use any name. Do not confuse the 'purchase key' on the invoice with the activation code. They are the same format.
Otherwise, failure could be caused by a temporary network problem, or prior use of a pirated copy of our software that modified your system HOSTS file, preventing resolution of our servers.
Try installing Process Lasso from https://bitsum.com/. It will alert you if the HOSTS file was modified. If you don't see a warning, then it wasn't the cause. You can later uninstall Process Lasso.
Guidance also here: https://bitsum.com/activation-help/
If it continues to fail, contact us and we'll refund your purchase.
Where can I view the End User License Agreement (EULA)?
Core parking is already disabled on my system, should I enable it to save energy?
ParkControl is normally used to disable core parking to achieve a performance boost, not enable it. Enabling core parking can cause performance problems with some CPUs, depending on how aggressive the parameters are. That said, yes, you can save energy by enabling core parking, but we recommend only doing that in select power plans, such as Power Saver.