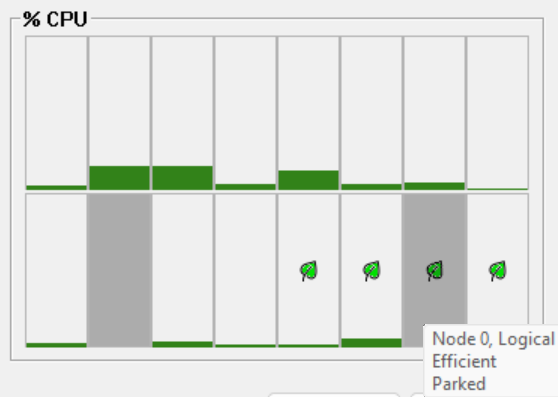 Process Lasso 12.4 – E-Core Icons and More
Process Lasso v12.4 adds leaf (eco) icons to distinguish the E-cores, delayed CPU affinity rules, and more! We've also updated our ParkControl app with new heterogenous scheduling settings, and tuned the Bitsum Highest Performance power plan to prefer P-cores. All this is part of our continuing mission to empower users to run apps their way!
E-Core Icons
We found it important to mark the E-cores on the graphs, so that users can know which type of CPU cores are loaded, and if necessary, use our Efficiency Mode rules to redirect apps to the appropriate core type. This was accomplished by overlaying a leaf icon on the CPU cores. The tooltips are also amended with 'Efficiency'.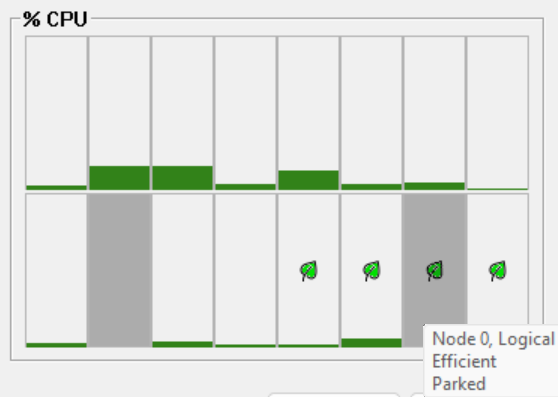 ParkControl Heterogenous Settings
ParkControl also received an in-tandem update to add heterogenous scheduling settings, namely short and long running thread scheduling policies. These power plan settings indicate which core type should be preferred to schedule threads onto. It is no guarantee, but helps to tune the system towards performance or efficiency.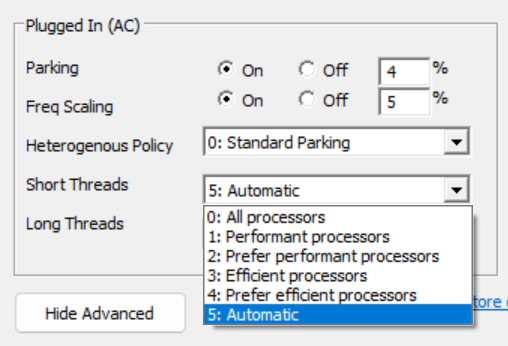 Bitsum Highest Performance Prefers P-Cores
The Bitsum Highest Performance (BHP) power plan now uses 'Prefer performant' for both short and long running threads when the system is plugged-in (AC). Existing users won't have this change automatically applied, but you can optionally use the new menu item in Process Lasso 'Options / General / Bitsum Highest Performance / Reinitialize', or ParkControl's 'Reset defaults' link while the BHP plan is selected.

Delayed CPU Affinity Rules
Also new in this release of Process Lasso are delayed CPU affinity rules. This was requested because some games don't respond well to affinity changes during their startup, but accept them fine a few seconds later. There may be other use cases for this setting as well, such as giving a process access to all CPU cores while it loads, then constraining it.

Remove All Rules Process Action
Finally, there's a new 'Remove All Rules' action to the process context menu. Now, for cases where a process has many rules set, you can quickly clear them all and start fresh for that process. Note that this setting only removes rules specifically targeted to that process, it won't remove matching wildcard rules.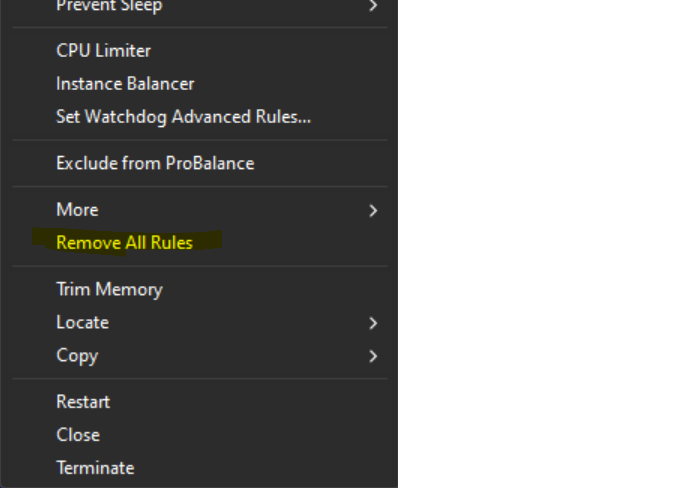 Conclusion
Those are the highlights of Process Lasso v12.4! For a full list of changes, see the Revision History. We continue to improve all our products thanks to the generous support of our users. Thank you!