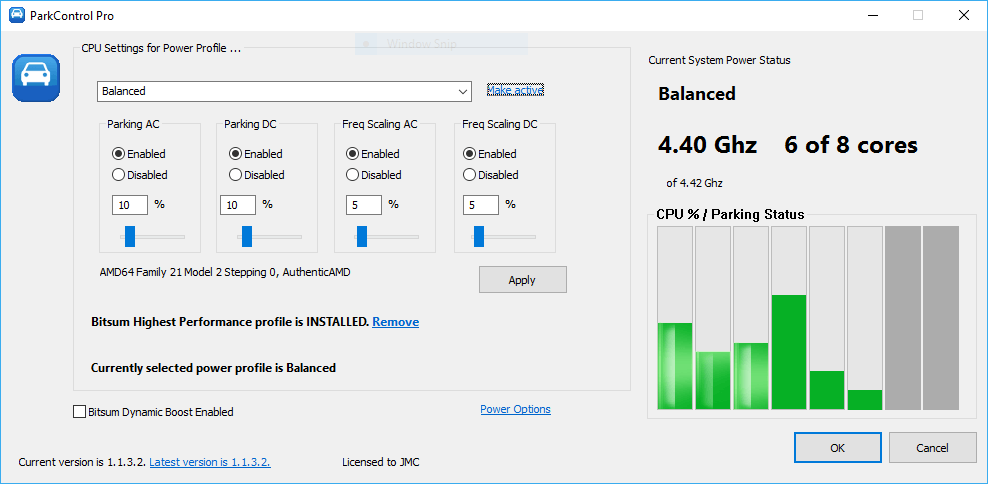 Want to tune core parking yourself? Use ParkControl. Want it done for you? Use Process Lasso.
Long ago, I included an early version of ParkControl in Process Lasso – buried deep in it's menus and rarely used. Ever since then, I've been trying to remove it, but get met with resistance when I do. Why would I remove it?
Well, because it is now a distinct application, ParkControl. And it is 99% free. It has ZERO nags. The singular restriction in the Pro edition is the new 'Dynamic Boost' feature, which you won't need if you are using Process Lasso's Gaming Mode / BHP and IdleSaver, or other Process Lasso Power Plan (aka Power Scheme) automation.
So it is NOT a licensing thing. Instead, it is a maintenance issue. We can not maintain a product within a product. It just doesn't work that way. Nor is it optimal.
To further confuse some users, when both applications are installed side-by-side, Process Lasso and ParkControl, as they are designed to be, Process Lasso's menu option will actually open the installed ParkControl application. That led some users to believe ParkControl was more included in Process Lasso than it really was. In reality, it was always a separate application I just happened to toss in Process Lasso in the early days.
If you want this functionality, install ParkControl. It is designed to run right along-side Process Lasso just fine.
When some users started to misuse the (old) version of ParkControl in Process Lasso by running it outside of Process Lasso, as opposed to just installing the 'real' and latest ParkControl app, I felt I had to take action, and did.
To resolve this situation, I am removing the remnants of pkctrl.exe from Process Lasso and replacing it with a link to install our ParkControl freeware app.
This will simplify everything. No more of an old, limited ParkControl hanging out within Process Lasso, out of date, etc… Instead, each application can keep itself up to date with our awesome single-click updater.
Make sense? Does to me, as I want to spend time advancing the product, not nit-picking over such small things. However, if you have an opinion, you know I care, and I encourage you to express it below!
The latest Process Lasso update, v8.9.8.58, changes the behavior to this: If ParkControl is installed, it will be opened. If it is not installed, it will direct you to download.