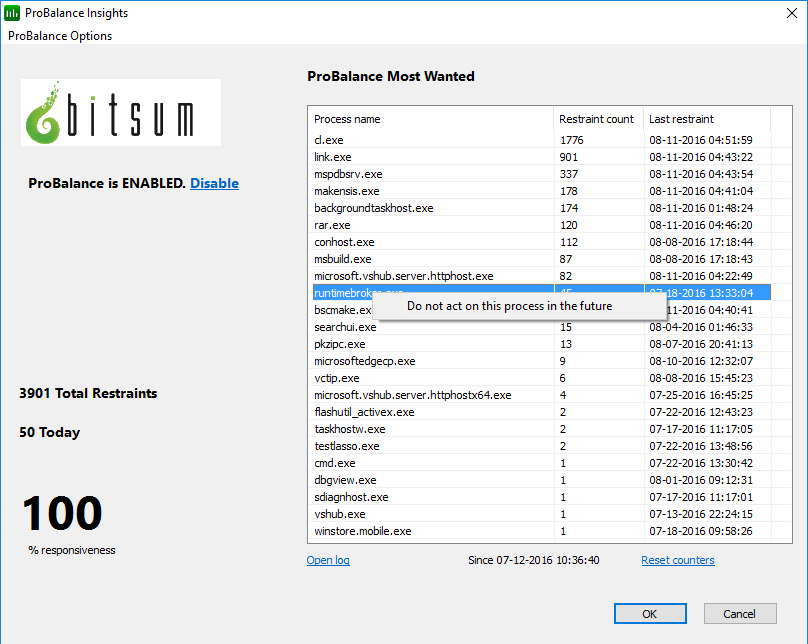 Process Lasso v9 Goes Final
Process Lasso version 9 has gone final. It has a new, silky smooth UI on resize, and a lot of cool new features.
Gen1 license holders should visit https://bitsum.com/step1 to convert their license code (one step despite the name, step 2 is receiving the key, lol).
The 'high level' change list is:
New Lasso Config Profile Support — we will build onto this!
New Frequency of [ProBalance] Action Metric in a redesigned Insights module
New Installer with improved auto-correction and language support
Filter process view to list only the processes you are interested in
Pause list and graph by pressing spacebar, or entering a filtered view
Quick-terminate is back by menu item (or DEL key)
Removde graph 'map/legend' Bitmap and replaced with drawn text for easier localization
Important Improvements to ProBalance
Better auto-detection of language in multi-user environments
Deferred key activation for unattended/silent installs
20% reduction in installer size
Approx 40% improvement in already negligible resource use (over 8.0)
Better interoperability with security software (over v8.0)
All the accumulated changes from v8.0 to v8.9.
… MUCH MORE coming, but it may be after v9.0
This is perhaps the largest single upgrade we've ever had. That is because of our usual incremental development style. We don't often 'save up' for major updates, we just rotate around to them. Not so here, as this version is a major improvement over even v8.9 (the last prior final build). I will be posting more information and documentation in the coming days/weeks.