ParkControl Pro v1.0.1.0 Released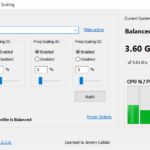 This release of ParkControl adds some important system tray menu settings and expands support for single-click updates to free trial users.
There is one reported issue where a small minority of users see 'insufficient rights' errors. We believe this is most likely caused by inappropriate registry tweaks based on guidance given at other web sites, or changes made by third-party utilities. ParkControl does things RIGHT, remember that. I am coordinating with users affected by this error and attempting to find the common denominator that will lead to a fix. For the few affected users, please continue to hold a bit longer, this is now the #1 priority in ParkControl work.
I have also cleaned up the new site's ParkControl page a bit, and added the advanced information available from the legacy site. This work is on-going, as is all new site work after our recent personnel change that mandated the new site be almost entirely refactored.
Revision History
v1.0.1.0 – Allow users with < 30 days installed (trial period) perform automated updates
v1.0.1.0 – Allow officially obtained 'Free Trial' license keys to perform automated updates
v1.0.1.0 – Added menu toggle 'Start at user login' to new Settings sub-menu
v1.0.1.0 – Added menu toggle 'Check for updates' to new Settings sub-menu
v1.0.1.0 – Added Settings sub-menu to system tray context menu
v1.0.1.0 – Minor fix to some Task Scheduler facilitating code