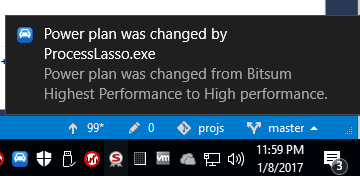 ParkControl Beta Gets 'Notify of Power Plan Change' Feature
Sounds mundane, until you consider we are speaking of ParkControl being able to report on the power plan changing activities of ALL PROCESSES …
As of ParkControl v1.1.8.7 BETA (not final yet), this new feature can notify users when the active power plan changes, including which process initiated the change. We found many users had OEM software on their machines that were manipulating power plans. This should make it clear when your power plans change, and who is doing the changing.
Again, not final yet, but almost there, and in public beta now at the ParkControl page. I will post about this again as soon as I go final with it.
This feature will also be part of Process Lasso version 9, which is why it was developed in this order.